---
The Name and Logo Competition for the Botanic Garden in Plovdiv is ON!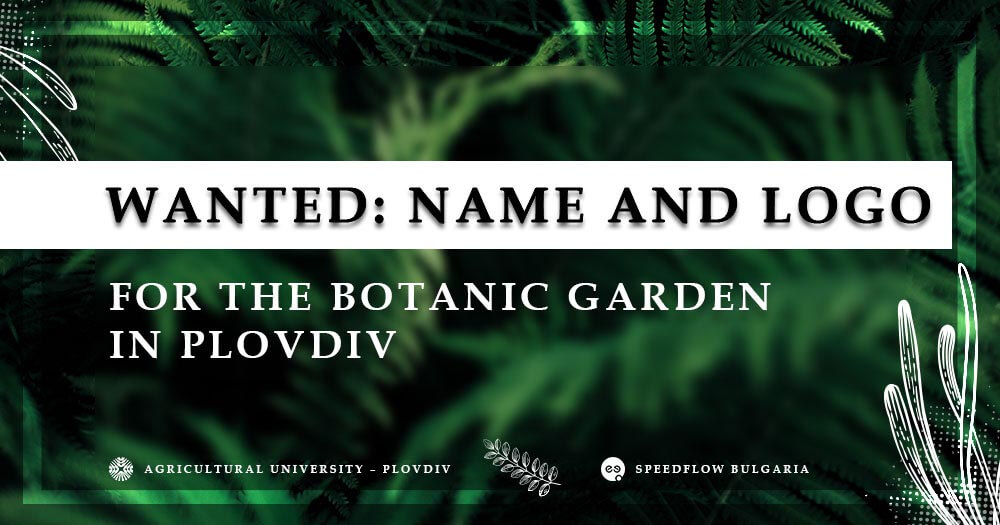 We are so happy to announce that together with Agricultural University–Plovdiv Speedflow Bulgaria is organizing a Name and Logo Competition for the University Botanic garden in Plovdiv.
Since 2017, our team has been actively involved in the Botanic garden renovation project. We are so excited that this special place will finally get its visual identity.
Terms and Conditions of Competition Entry
1. About the Botanic garden
The Botanic garden in Plovdiv was founded in 1950 on an area of 250 decares. It is the third botanical garden in Bulgaria and the first one built outside Sofia. Through the years, its size has been reduced several times and now it spreads over 113,504 decares. Unfortunately, all research, development and maintenance activities ceased completely after 1990. Currently, the park is in a terrible condition. The whole area keeps on deteriorating although it is home to rare plants and trees.
There have been several attempts to revive the Botanic garden over the years, but no substantial results were achieved. Until 2017! Then, thanks to the joint efforts of Agricultural University-Plovdiv, Plovdiv Municipality, District "Trakia" and benevolent citizens the Steering Committee for the Restoration of the Botanic garden was established. Its proactive board organized more than 15 cleaning events, green initiatives for children and adults, and a big drawing competition on the topic "My Botanic garden".
The determination and enthusiasm of Plovdiv residents to bring back to life the former Botanic garden is growing even stronger. The joint efforts of all participants have brought many positive results:
Over 1500 sq.m. was cleaned
Hundreds of trash bags were thrown away
A garden with over 1000 crocuses was planted
30 birdhouses were built
Illegal constructions were demolished
A request for tenders to build a new fence has been initiated
So, here we are, a year later! Our team believes that the time has come for the Botanic garden to get a beautiful name and an impressive logo.
2. General guidelines
By organizing the Name and Logo competition we would like to attract more followers to this noble cause – supporters, environmentalists, friends, specialists, sponsors, contributors, plant lovers, etc. with whom to join forces and complete the project for the restoration of the Botanic garden. We do hope that in time it will become a well-known park and a favorite recreation area not only for Plovdiv citizens but also for foreigners.
3. Name and logo specifications
Both the name and the logo must convey the right messages and provoke associations and emotions related to botanic gardens and the preservation of the flora in Bulgaria and the world. They must be positive, attractive, and express one's love for nature in general.
The design of the logo should be original work and must not resemble or copy another existing logo. It must not contain distinctive elements or initials of the author. It should illustrate and express the concepts of the Botanic garden and provide the necessary recognition.
The name should not be taken/under special patents and be available for use. It is advisable to create a unique font or use one that is not copyrighted (e.g. open source)
Each designer can decide for themselves if they would incorporate the name in the logo or not.
4. Eligibility
The Name & Logo competition is open to both Bulgarian and foreign artists. Designers can apply individually or as a creative team. There are no age restrictions. Each participant has the right to submit up to three different creative concepts.
5. Deadlines
Start of the competition: 01.10.2018
Submission deadline: 10.12.2018
Winner announcement: middle of December 2018
6. Submission requirements
Color, monochrome, positive and negative versions in JPG format (1500×1500)
Two language versions of the design – in Latin and Cyrillic
One page description of your ideas
Brand book (PDF)
Branding mockups
Your resume
Contact details: name, phone number, and email
Please, submit your entries to garden@speedflow.bg no later than December 10.
7. Judging
Firstly, there will be a public voting. It will determine the 10 best works that will go to the final stage of the competition. The winning design will be selected by an independent jury consisting of the competition organizers.
8. Prize
The author of the best name and logo will get a prize of 1000 leva.
9. Copyrights
The winner agrees to present the winning design along with all work files to the Botanic Garden, transferring all copyrights to the Agricultural University–Plovdiv.
If you are full of creative ideas, genuinely love nature and are feeling inspired by the Bulgarian flora, we are looking forward to receiving your concepts at garden@speedflow.bg no later than December 10.
Speedflow Bulgaria team and Agricultural University–Plovdiv wish lots of success to all participants!
Recommended Posts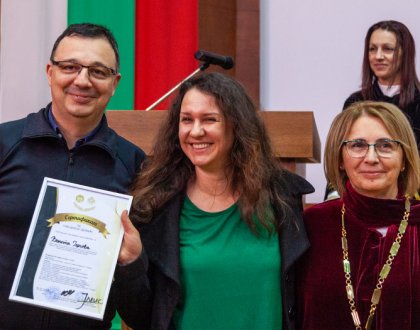 December 19, 2018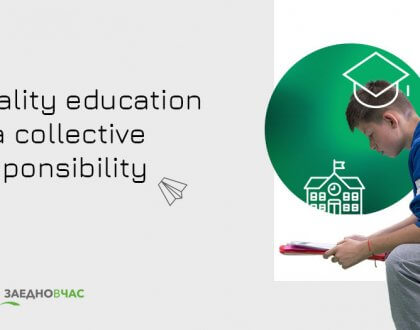 October 8, 2018